Torn ACL Senior Year, sucks!
by Nicole
(New Jersey)
October 1st, 2008 was probably one of the hardest days I had to overcome.


Halfway into my senior year of the soccer season I'd never felt better. I knew going into the game I had to give it my all esp. because we were playing against one of our rivals. This game was horrible, the team we played against was probably the most unsportsmanship team ive ever played against.
So it was the sweeper and I going for the ball. I stepped in between her legs to the ball and she took my leg with her. Next second later i hear a "pop" in my left knee and fell to the ground screaming. Not only did girl do this on purpose, but she laughed in my face. Great sportmanship, right?
After calming down, my athletic trainer checked my knee out. She could never get a lock on my knee because I was so tense and didn't want anyone to touch it. But she wasn't really sure of what I did because i didn't swell up at all.
After many appointments of doctors saying i just "bruised" my knee cap the MRI came back saying that i completely blew out my ACL. After listening to doctors say that I just bruised it to you torn your ACL is a big shocker.
On Novemeber 12,2008 I got my surgery. I was extremely nervous since it was my first surgery. But the staff was great and made me feel so comfortable. I had to use a cadaver since my tendons in my legs would be too little to use since im only 5'1.
Surgery went really well, I had the nerve block which pretty much held out the most pain. Overall I really wasn't in much pain. The only thing that bothered me was my stitches rubbing against my brace.
The week after I got my stitches out and I felt great. They had to drain my knee because i had so much fluid. After getting my stitches out I was walking without my crutches with my brace locked 3 days later.
Now I am 3 weeks out of surgery and am doing pretty good. Each day gets better and better !
For anyone getting the surgery, good luck! Just stick through therapy even if its a long way before you get back to yourself again.It's so worth it ! :)
Jan 29, 2009
by: Nicole
UPDATE:
Keeps getting better and better!
Extension - not completely at zero, but almost there.
Flexion - full range, feels great!
Quad Muscle - its there and its trying to work, I just got to work harder.
Sep 06, 2009
by: Tyler Redd
First football game of my senior year I did the same thing. I worked my but off for three years, gained fifty pounds, worked out everyday passionately to gain a starting spot. After those three years of hard work i came out the strongest pound for pound on the team, people respected and feared me it felt good. I got the starting spot and i enjoyed it for sixteen minutes into the game. I guess it wasn't meant to be i just planted my foot in the ground no one touched me. It didn't hurt it just buckle on me. I tried to walk off the field and made it about four steps before it buckled on me. I hade a grade two mcl tear and a full acl tear. I have yet to have surgery it isn't for another three weeks. The doctors tell me i am done with football and it will take six months to recover but the truth is i feel no pain and can put full weight on it, jog, I can bend it plenty past 90 degrees with no pain, jump ( abnormally but still) and bike. I feel like there is nothing wrong except that i am not playing football. It suck and isn't fair. I am one of the few that really love the game on the team. I have pre op in two weeks and maybe they will say they were wrong even though i could even see that it was torn on the MRI. Maybe God will see fit to let me heal and be a tool to help spread his word through telling this whole story. That is what i pray for everyday. I still support my team but wish with everything i got that i can get back out
there before the season is over. Thank you it helps to let some of this out.
Nov 22, 2010
by: Anonymous
I just wanted to say thank you for sharing your story. i tore my ACL MCL and meniscus but I'm having ACL and meniscus surgery tomorrow and I am freaking out. This is also my first surgery and it may be the end of my softball career. I'm glad you did good with the surgery and everything. I also have to have a cadaver because i'm only 5'3. Again, thank you for sharing.
Feb 07, 2011
by: David Ross #3
I tore my ACL my senior year of high school, and it was one of the most beautiful experiences that i've ever had, and this is why. I had been playing football for may years and it was a passion of mine. During the third game of the year, on the third play the unfortunate happened. I tore my ACL and a slight tear in my meniscus. In a snap of a finger my football career was officially over. The accident was devastating. The rare thing about it was that no one had touch me, I simply made a cut and then a POP. I thought my dreams were over. I soon realized that this was one the most beautiful things that had ever happened to me. Most people would feel sorry for themselves and have self pity. I however did not, instead I was a new man. This is because I was to naive and young to understand that I was in fact way to small to play at any higher level of football. I had dreams of playing for a D-1 school and then going professional. After the incident, It changed the way that I looked at life. I personally think that I've changed for the better because now I see that there is much more to life than football, and I'm saying that because for the past 8 years, football was my life. Why I tore my ACL? I don't have that answer, but I do know that you cant stop living no matter how big the blow is.
Nov 17, 2011
by: godhasaplan
my story is very similar to yours and the other guy who tore his acl who plays football. I play basketball and it was the first game of the season and i was going down the court on a fast break and i was going to pass the ball to the girl in front of me so i jump stopped and thats when my knee gave out. I heard a series of pops and when the trainer came to look at me he straightened out my knee it popped again. so Like you said i thought i just dislocated my knee cuz i hooped of the court and it was realy swollen at all. the trainer also checked it twice and said he didnt think i tore it although i wasnt really letting him cuz i wasnt relaxing enough for him to get a good read. so later i got an MRI done and sure enough i tore my acl and my meniscus. when i found out my heart dropped because mhy other teamate had torn her acl so i knew how long recovery was. then next thing that came to mind was no basketball or track senior year and i just started balling lol. i reaaaaalllly wanted to go to playoffs this year and i had colleges who where looking at me and planning to come to some of my games this season. what really sucks is my knee doesnt hurt at all. After 3 days of therapy im already walking on my leg without a limp and i can fully straighten it. (I wasnt able to before) it doesnt feel like its torn at all and i feel like i shouldnt need surgery and i should be able to play. im not looking forward to surgery, infact i believe theres gotta be some alternative to getting surgery that these doctors arent telling us and im about to find out cuz 6 months is too long. i cant work out so i cant eat as much as i used to :(... but for now im trying to stay positive cuz the minute im recoveredim gonna work my hardest to get back on the court and play 10x better than i ever did. i know god has a plan.
Return to ACL Surgery Stories.
My senior soccer career over before it started.
by Paige Florence
(Paris, KY, US)
It was July 11, 2009. It was a really hot day and my soccer team was playing at a summer team camp at the University of Kentucky. Ten minutes into a game, I went to stricke the ball. I was playing on turf so I guess my cleat got caught and my right knee twisted to the outside. As soon as i heard the loud "pop" I feel to the groud screaming while grasping my knee. Everyone stopped what they were doing to watch. No one knew what to do all they heard was the loud pop that echoed through the field house we were playing in. I was really emotional it hurt to move. Pain seemed like it was running up and down from my ankle to my hip. The saddest part is I knew when i hit the ground that my senior soccer career was over.
Return to ACL Surgery Stories.
Hopefully Making The Most of Senior Year
by Maggie
(Illinois)
I have been active in sports since I was a young girl and participating in them every year in school became a comfortable lifestyle. This year however, will be different. I am seventeen and will be a senior in high school this upcoming school year. I will not be able to play volleyball this year or participate in the Fall musical because I tore my ACL and meniscus this past June. My goal is to be able to play softball this spring.
I was playing in a summer volleyball league with my school when I damaged my knee. My softball season had just came to a close the week before and I was extremely excited to break out the knee pads and play some volleyball! I had open gym two days before I tore my ACL and was hitting the ball harder than ever. I felt really great and proud. Then that Thursday, we had two other schools come over to our gym to play some games. My team was warming up and began hitting lines; I hit outside. The setter set me the ball, I jumped up, hit it hard to the ground and came down for the landing. My landing, however wasn't right. Many people mention an infamous popping noise, although I didn't hear one. I did feel my knee move out of place. I remember sitting down with my legs in front of me, grasping my left knee. The pain didn't bring me to tears, I was more in shock. I absolutely HATE not being able to be in control of my body and I was shaking and my knee felt really tight. I was helped off the court and I was given ice and elevation. My mom and boyfriend sat with me as I watched my team play. My knee swelled but I was never in great pain. My mom took me to our family doctor and he said that my knee was sprained and gave me an immobilizer brace to wear for two weeks. After I took the brace off, I didn't feel totally healed but I figured I would get better in time. Keep in mind that my ACL was torn at this time! I jogged when I felt confident in my knee, I swam, and I even rode a bike! The only time my knee ever really hurt was when it gave out on me, which happened a handful of times. I wasn't participating in volleyball, however, because I knew that I couldn't sprint or jump. But my $80 volleyball camp arrived, Elite coaches were there to run it, and I wanted to go. My knee gave out in the first 10 minutes of warm ups. I took it easy and then shuffled and passed some balls towards the end of camp that day. As I was taking off my shoes and knee brace, I realized that my knee was extremely swollen. This is when my coach suggested that I see an orthopedic doctor and have an MRI performed. The MRI came back and it was clear that my ACL was torn. I was DEVASTATED. I knew that ACL recovery takes a long time and that I would have to miss my senior year in volleyball. I cried alot the day I received my results. What tore me up the most (no pun intended) was that I thought that I had one more volleyball season left; one more school musical; and now I have to accept that fact that my lasts happened last year when I was a junior.
I had my surgery performed on July 15. The doctor was very good at getting me in really quickly considering I was a young athlete with upcoming seasons. I appreciate that so much. My own hamstring from the inside of my knee was used to reconstruct my ACL and they realized I had damaged my meniscus more than they had thought and stitched that up too. Post surgery has been difficult. My appetite is no longer present, my body aches from lying straight on my back every night, and sometimes the pain in my knee is unbearable. I have bruising down my leg, but the doctor says that is normal.
I am very lucky to have such great a great support system to help me all the time and back me comfortable. My family, boyfriend, and friends visit often and brighten my day. They massage my foot and ankle and lift my spirits. I have my good days and bad days emotionally and physically. Nights in bed where I literally sob and wonder why this had to happen to me, and days where I keep my head up and look up and find the brighter sides of the situation. I accept that the next 4-6 months are going to be very difficult and I am going to have to be very strong. I have a goal to play softball this spring and I am going to fulfill it! I will try making my senior year as great as I can make it and I know that with willpower and drive, I can get back to my old self physically. There is nothing I want to do more than run, jump, and play!
Return to ACL Surgery Stories.
Sierra's Goodbye to her Varsity Season.
by Sierra
(Washington)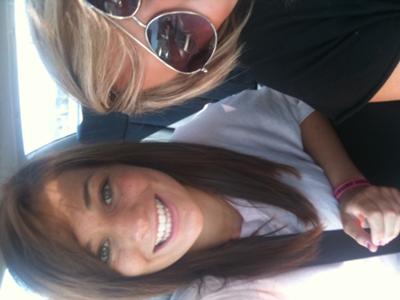 Me (Brunette) and My Sister (Blonde)
It's hard to believe I'm at home right now while the team I worked almost 8 years for is out doing everything I worked for, playing varsity basketball. You can imagine how excited I was when I heard from the coach that I would be the only under classmen to be playing varsity for this upcoming season. So when he told me to just have fun this first game of Summer ball, that my spot was set, I felt so proud of myself. But it wasn't more than 5 minutes into the game that I went up for a rebound, and when I landed I heard a loud pop and immediately knew something was wrong. Being younger than the rest of the team, I was afraid to tell my coach I was hurting. So when he asked if I was alright I said I was never better. Upon returning to the court as soon as I took one step with my left knee, I collapsed. Needless to say, I was taken out of the rest of the tournament.

The coach called my dad, and he set up an appointment for the next day at an Orthopedic Surgeon. On the car ride there, half of me hoped it was something because I was embarrassed that I cried on the court. But the majority of me prayed it was nothing, that I was overreacting and I'd be good to play that upcoming weekend. After the doctor examined me he said my knee was too swollen to give me a definite answer, and had me go get an MRI.

Three days later my dad got a call from the doctor and the expression on his face told me right then it was something serious. He sat me down and told me I had torn my ACL, my MCL, and there was damage to my Meniscus as well. We made an appointment to see the surgeon.

When the surgery date was decided, I was told that after surgery it would be a minimum of 6 months till I could play again. There went my whole season. I cried the entire car ride home.

I'm now almost two months post surgery. The first week after surgery was the hardest pain wise, but mentally these last few days have really been killing me. As I'm heading to physical therapy everyone else is counting the days till season. I have an older sister who plays all the same sports I do, and seeing her leave to practice just kills me. I just have to keep telling myself that things are only going to get easier from here. And that when I am healthy, and my knee is ready to go, there's going to be nothing stopping me.
Return to ACL Surgery Stories.
The 2 Play Season..
by Tom Schetroma
(Elysburg, Pa)
Well my name is Tom, and like everyone else on this website.. I had a major knee injury. Mine just happened to be the ACL/Meniscus tear. I've been playing football since 7th grade, all the way up to high school. Currently I'm a junior and was injured during my 2nd play of the first football scrimmage. I came through the offensive line, was hit by a trap block.. boom. Couldn't walk. My trainer said that it was a hamstring pull and I would be back in a week, then I later went to get an MRI.. and found out the news. I was heartbroken, and was sidelined for the rest of the year. I traded practice for rehab, and my football uniform for a bench warming position. Currently, I'm about 7-8 months post operation and feeling a lot better. I have been able to lift lower body, and am preparing for districts this week in shot-put and disc.. which is a big deal for me since I was debating on whether to even come out again. My story is just beginning, well at least the post op part. Rehab was difficult.. but you have to do it and just think about the long term goal of getting better. All in all, tearing my ACL/Meniscus was terrible, but it can happen to anyone. Just live life day by day and don't get too down about it. Think about progressing and eventually getting to the state of being able to play or do whatever again. Thanks for reading and good luck to anyone who is going through a similar situation, parents and children.

- Tom.
Return to ACL Surgery Stories.
Kenzie's ACL, Lateral and Medial menisucs Surgery
by MacKenzie
(Ohio)
Hi, my name is Kenzie and I'm 15. I am freshman and I made the Varsity softball team. During a game I was going for a fly ball, I stopped, my knee gave out, and popped. I've had surgery before,when I was 12, and I was just beginning to trust my knee again. I knew something was wrong. The next day I tried to play. I lead off the game and hit, but when I went to run I couldn't stand the pain. I went to the doctors and he told me it was most likely just a MCL sprain but he wanted me to get an MRI. So, when I got the results it was more then what we all expected. I completely tore my ACL and sprained my MCL. But the doctor said he didn't see it. So I went to another doctor and he said that I definitely tore my ACL. I had surgery on May 10, 2011. During the scope they discovered that I had torn my lateral and medial meniscus. They removed 30% of my lateral. They also used my hamstring to make my new ACL. This is the most pain I have ever had to go through. But, I am determined to get back to playing. I always ask myself why it had to happen to me. I hate the fact that I wont get to play travel ball with my team. I am doing pretty good so far. I am up to 90 on my CPM machine and I can fully extend my leg. Leg lifts are getting a lot easier I can almost do 3 sets of 10 on my own. I am having trouble bending my leg to 90 while sitting but I am going to be able to soon. I am staying positive and keeping a good attitude. Hopefully I will have a fast recovery. I want to get back to doing what I love to do which is softball.
Any tips on getting my quads stronger would be really helpful. Please and thank you.(:


Jun 03, 2011
by: Jael

Hey,
I am glad you are doing good!
I am a sophomore. I tore my Acl playing in a varsity soccer tournament this past September. I had surgery in October and have just been able to start playing this past May.
I agree.. it is hard but stick with it. Its the only thing you can do! I found that one I started to do more in therapy the time flew by! And it will be GREAT when you can play again!
Just remember.... ITS WORTH IT! You will be playing in no time!!!!!!

As for quad exercises you are probably doing all the ones I did so I really don't have anything for you there, but I want to tell you, it takes a long time to regain all the muscle there! My left (reconstructed) leg is still noticeably smaller than my other one:)
Keep working at it!
Good luck!!!!!!!

Jun 24, 2011
by: jojo

Hey girl!
I'm so sorry this happened to you! But, I promise you, you will be better! It will seem like a long process but stay strong and you'll be doing amazing in faster than what you think. I'm gonna be a senior and i tore both of my ACLs playing varsity basketball. I tore my first ACL as a freshman and also had about 30% of my meniscus removed and my other ACL as a sophomore. The pain is hard not but it is definitely worth it in the end. Tips for getting stronger: Just do everything PT says and do it at home as well. Good luck in your recovery.
Return to ACL Surgery Stories.
My ACL Surgery - Junior, 16 years old
I am a junior, and currently 16. I torn my acl playing basketball at school. I have heard about athletes tearing their acl, and from the time, during the game I heard a pop in my left knee and I could no longer stand, falling to the floor, I knew that I had just come across my worst nightmare. I have heard about athletes that just walked off the court after they torn an acl, but not me, I could not even stand up, because my knee just crumpled under me. I was sitting on the court holding my knee, and it was not because of the pain, but because the thought of surgery. For me that was the scariest part. I never had such a big surgery before. I had a minor surgery before but nothing like this. My knee was constructed using the patella graft. I was in lots of pain but I stuck to my pills. After a week, the pain was easing off. I had my surgery march 15, and its been 4 months of PT. I thought things were going to get better after my surgery and I would be up and about, but things took a turning point for the worse. It took me long to start walking and when I did, my walking was not normal. As I am writing my story now, my knee is stuck at 65 degree. It does not bend beyond that and it does not straighten completely, which explains my bad walking. I am waiting for july 21 for my doctor to schedule for knee manipulation, which is ten times worst. I have been staying strong and doing things on my own to help me, since my PT has been stopped because of no progress. It was not what I expected, but hopefully after my second surgery things will be better.
The advice I can give to all who had acl surgery or will soon, STAY STRONG!
ohh and one more thing:
don't wear your knee brace longer then needed, because your knee will be stuck at 65 degree like me ;]
Return to ACL Surgery Stories.
Antiqua King ACL LCL, PCL
by Antiqua King
(Meadville, PA, USA)
I was running hurdles for the first year ever... I usually run over distance. I run cross country and track and I swim. I am quite the athlete. I went to districts for all my sports I am in. I went to states my freshman year for cross country. I an the 2nd fastest distance runner on my team...! This somehow this track season I decided that I wanted to run hurdles.... I dont know were I got that idea from... I asked my distance coach and he said "if anything you should be running more distance" he wasnt to thrilled about me trying them. But he decided to let me try them. So i practiced with hurdles and my formed really sucked! So it was my 1st race racing them and I was scared!!! I was in the 2nd heat (slow heat) I was down at the starting line the starter shot the gun and I was off... I ran up tp the hurldes and i would jump and i finished the race and to my surprise i won. Not only in my heat but OVERALL!!! I got 50.00 which is districts time!

I made it to districts on my first try and not to many people do that. So my distance coach let me do distance and hurdles.... So I raced hurldes ever race and I was getting 1st place.! I was 3 second off from state time. My formed still sucked and i decided to practice extra hard at practice one day to get my form perfect! There was a girl named paige who I was tied with and we were being competitive toward each other.. So we were having mini races during practices... I wanted to beet her at practices so our coach said go and i jumped about 5 hurled and my 6 one i fell... Everyone laughed but i new i was hurt. I felt the instant pop! It hurt so bad the coaches ran over and were asking me question and all that. I was just in a ton of pain..

The physical therapist guy said there was nothing wrong with me. I went to urgent care and my knee was to swollen to read the xray so i got an mri and i foud out that i toor 3 legements... My ACL, PCL, LCL I was devastated because i couldnt run anymore..... running is my life and without it i am so lost...
Return to ACL Surgery Stories.