Site Disclaimer / Privacy Policy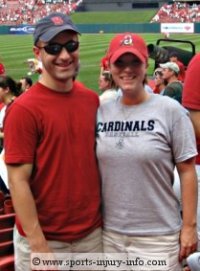 While I strive to provide answers to as many questions as possible regarding sports injuries, their prevention and treatment, the information on this website should not be used as a substitue for proper medical care.
If you have suffered a sports injury, then you should see your family physician, certified athletic trainer, or other health care professional trained in the treatment of sports related injuries.
You will be better off in the long run, whether it is a minor sprain or severe injury. Taking the time to find out exactly what is wrong, and seeking medical treatment is the first and most important step in recovering.
If you submit questions via the forms available on this website, I will try my best to answer them, and to respond in a timely manner. However, please understand that I cannot give you medical advice, and many times cannot specificially tell you what kind of injury you may or may not have.
Any information that is collected on this site, such as email address, name, phone number, location, etc. will be kept strictly confidential, and used only in the manner in which it was first collected for. I will not sell or distribute your email address or personal information for any reason, and hold my visitors privacy at the highest level.
One more thing...this website does use technology to track visitors, pages visited, time on the site, and referring pages to provide information to continue to improve the site. All information remains annonymous, as no personally identifiable information is collected without permission.
We use third-party advertising companies to serve ads when you visit our website. These companies may use information (not including your name, address, email address, or telephone number) about your visits to this and other websites in order to provide advertisements about goods and services of interest to you. If you would like more information about this practice and to know your choices about not having this information used by these companies,
click here
.
All of the information contained within this site is for educational purposes only. All articles and graphics are copyrighted and may not be reproduced or used without written permission of Barton Anderson, MS,ATC, owner and creator of
Sports Injury Info.
If you would like to reprint any of the information contained on this site, please feel free to
contact me