Learn About Your Knee Injury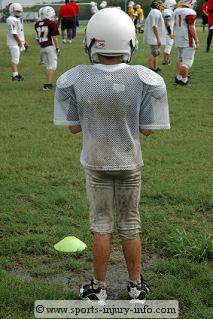 Knee injury is very common with sports activities. We see hundreds of knee injuries in the clinic every year. Some are simple
strains or sprains
, others are major surgeries like
ACL reconstructions
.
While these injuries can vary in serverity from minor sprains to complete ligament tears, most injuries to the knee require some type of rehabilitation and treatment.
Understanding your injury is important. Not only to give yourself peace of mind as to what is happening to your body, but to help you decide if you need to see a physciain. And to answer your questions about your injury. Knowledge is valuable, and it will get you off the sidelines faster.
Ligament tears, meniscus or cartilage tears, patellar dislocations, and tendonitis are just a few knee injuries suffered during sports participation.
Below you will find links to the most common types of knee injuries.

Knee Pain
Not sure what kind of injury you have? Start here and learn about your knee pain and what it means.
Patellar Tendonitis
Inflammation of your patellar tendon, often caused by running and jumping.
Patella Femoral Syndrome
Irritation or pain around your patella. PFS is a common and complicated problem.
Patella Chondromalacia
Softening or damage to the cartilage behind your knee cap.
Dislocated Patella
Patellar dislocations are a serious sports injury that needs to be treated correctly for the best recovery. Learn more about this injury.
The Unhappy Triad
ACL, MCL, and Meniscus tears...all rolled into one.
Torn ACL
Possibly the dreaded knee injury.

Torn Meniscus
Damage to the fibrocartilage of your knee.

Medial Meniscus Tear
Damage to the medial portion of the fibrocartilage of your knee.

Medial Collateral Ligament Tear
Injury to the medial ligament stabilizing your knee
PCL Knee Injury
Not as common as ACL knee injuries, the PCL can be injured with sports activities, and leads to instability, pain, and dysfunction.
Hamstring Injury
An extremely common injury, which can become chronic if not treated correctly.
Quadriceps Strain
Injury to any of the four muscles in the front of your thigh.