Advertising On Sports Injury Info
Do you have a business offering sports injury products? Selling braces, equipment, or treatment aids? Are you a sports medicine professional looking to exapand your practice? How about a sports website owner who needs a traffic boost? Sports Injury Info has limited advertising space available, just for you...
About Sports Injury Info
We are an established sports injury website with over 1300 pages of information on sports injuries, treatment, rehabilitation, and surgeries. Traffic has steadily been increasing over the last 12 months at a rate of 15-20% per month. We currently have an Alexa Traffic Rank of 243,000. SII offers a monthly newsletter and new content is added to the website daily.
What Can We Provide
- Traffic - In May of 2009, Sports Injury Info had over 81,000 unique visitors who viewed almost 200,000 pages. Vistors came from over 110 countries around the world. Sports Injury Info is well represented in the search engines, with over 90% of our traffic coming from organic search.





- Targeted Customers - Visitors to Sports Injury Info are all looking for information on their sports injuries. From knee pain to surgeries, they are seeking the best solutions for their problems. This positions your products to be well received.

- Affordable Prices - If you have done any type of PPC advertising, you know how expensive it can get for the most competitive keywords. Our flat fee pricing can be a great alternative to PPC marketing, especially for high cost keywords.

- Search Engine Placement - Sports Injury Info has numerous pages ranking in the top 10 results on Google - this means that when visitors searching for specific information on Google find our site, they see your ads.
What is Available
Advertising contracts are created on an individual basis, depending on your desires for exposure, placement, and budget. In general we offer 4 types of ad placement, and several different types of exposure. Rates are competitive.
Right or left column Text/Banner Ads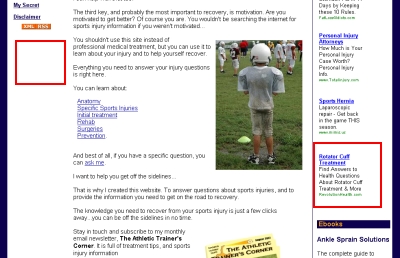 Featured Listing - Text or Banner ad placed immediately below the opening paragraph, above the fold.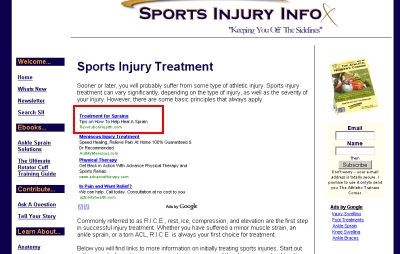 Mid Page Ad - Text or Banner ad placed mid way down the page between content paragraphs.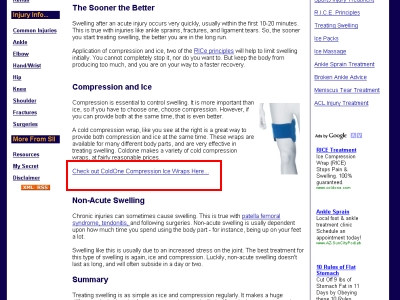 Bottom Page Ad - Text or Banner ad placed at the bottom of the content page.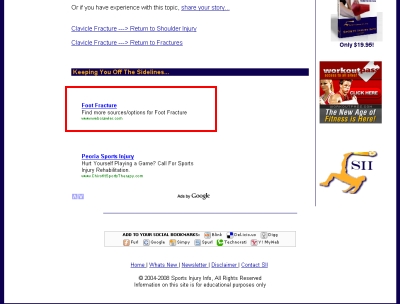 Exposure Options
Exposure on Sports Injury Info can range from site wide ads (ads on every content page of the site) to single page targeted ads, and everything in between. We offer several different advertising contract packages, as well as custom designed campaigns.
Every ad is tracked for click-throughs and conversion rates, and we work closely with advertisers to improve their ads - a win win situation for everyone
For more information on advertising on Sports Injury Info, please complete the form below. You will receive more information, as well as all of our available advertising options and pricing.