Sports Injury Prevention
Sports injury prevention techniques can help limit your chances of injury, as well as the severity of injury. Injuries in sports are, unfortunately, a common occurance.
If you participate long enough, you will suffer some type of injury. With a good injury prevention plan, you can participate longer, with less pain, and an overall more enjoyable experience.
Preventing sports injuries can be broken down into several general areas of focus. Proper conditioning, flexibility, strength training, and nutrition are just a few of the areas of focus for injury prevention.
Whether you have suffered from a sports injury and would like to learn how to prevent re-injury, or if have been injury free and want to stay that way, you will find my information on prevention techniques helpful.
Improving your Flexibility
Flexibility or normal joint motion is a major key in preventing chronic overuse injury. Learn more about the importance of improving your flexibility.
Preventing ACL Injury
Learn about the key exercises to help protect your knee.
ACL Injury Solutions
A comprehensive 8 week program designed to help protect your ACL.
Choosing The Right Athletic Shoe
Shoes are the most important piece of your athletic wardrobe. These tips can help guide you in selecting the correct shoe for your foot.
Sports Nutrition
Learn the basics for eating to improve your performance from nutritionist Suzette Barancik, RD. From pre and post exercise meals, to when to eat, she covers it all.
Heat Illness Prevention
Summer means outdoor activities. Learn the basics for keeping yourself healthy in the summer heat.
Knee Braces
There are hundreds of knee braces on the market. Learn which ones work for different sports injuries.
Ankle Braces
Learn what to look for when choosing an ankle brace.
Didn't find what you were looking for? Search SII for more information...
Running Pain Solutions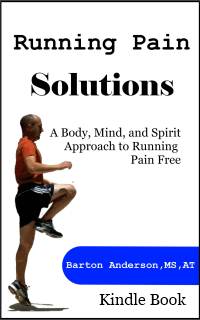 The key to getting rid of minor aches before they become major pains is a simple, total body prevention program.
Written for Runners by a runner, you'll learn a holistic approach to improving mobility, restoring normal movement and muscle activation patterns, and restoring the body and mind connection.
This Kindle Book contains a step by step program to keep you running pain free. Included are detailed instructions and illustrations for exercises to improve mobility, balance, neuromuscular control, strength and endurance. Only $7.49!
Get Your Copy Today!