Treating Swelling: Tips and Tricks
Treating swelling is essential in recovering from your sports injury. Swelling is a major problem, causing pain, loss of motion, loss of strength, and function. It plays a major role in the healing process, and slows down recovery considerably.
There are a few tricks that can get you ahead of the game when it comes to limiting swelling and effectively treating it.
What is Swelling?
Simply put, swelling is the accumulation of fluid in the body. It can be enclosed within a joint (effusion) or outside of a joint (edema). It is the body's way of preparing the injured area for healing, but becomes a big problem when treating sports injuries.
Learn more about swelling
The Sooner the Better
Swelling after an acute injury occurs very quickly, usually within the first 10-20 minutes. This is true with injuries like ankle sprains, fractures, and ligament tears. So, the sooner you start treating swelling, the better you are in the long run.
Application of compression and ice, two of the
RICe principles
will help to limit swelling initially. You cannot completely stop it, nor do you want to. But keep the body from producing too much, and you are on your way to a faster recovery.
Compression and Ice
Compression is essential to control swelling. It is more important than ice, so if you have to choose one, choose compression. However, if you can provide both at the same time, that is even better.
A cold compression wrap, like you see at the right is a great way to provide both compression and ice at the same time. These wraps are available for many different body parts, and are very effective in treating swelling.
Non-Acute Swelling
Chronic injuries can sometimes cause swelling. This is true with
patella femoral syndrome,
tendonitis,
and following surgeries. Non-acute swelling is usally dependent upon how much time you spend using the body part - for instance, being up on your feet a lot.
Swelling like this is usually due to an increased stress on the joint. The best treatment for this type of swelling is again, ice and compression. Luckily, non-acute swelling doesn't last as long, and will often subside in a day or two.
Summary
Treating swelling is as simple as ice and compression regularly. It makes a huge difference in the length of your recovery time, and will significantly decrease your pain and improve your range of motion...and that will get you off the sidelines faster.
Didn't find what you were looking for? Search SII for more information...
Running Pain Solutions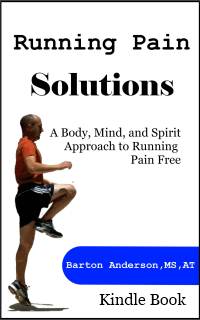 The key to getting rid of minor aches before they become major pains is a simple, total body prevention program.
Written for Runners by a runner, you'll learn a holistic approach to improving mobility, restoring normal movement and muscle activation patterns, and restoring the body and mind connection.
This Kindle Book contains a step by step program to keep you running pain free. Included are detailed instructions and illustrations for exercises to improve mobility, balance, neuromuscular control, strength and endurance. Only $7.49!
Get Your Copy Today!