Calf Stretches
What are the best calf stretches? While there are lots of different ways to stretch the calf, the single best way is with an angled board. Stretching the calf is an important part of treating calf injury, as well as prevention of injuries like
achilles tendonitis
and
plantar faciitis
. Read on to find out more.
Angled Board Stretching
Commercial angle boards are expensive. They are the best way to stretch the calf, but the cost for an angle board is somewhat prohibitive for the recreational athlete. With that said, it is really easy to make an angled board for yourself. Most gyms and health clubs should have an angle board available for use.

Stretches on the angled board are simple. You just stand on the board, and hold the stretch for 3-5 seconds, and then repeat. Really nothing to it.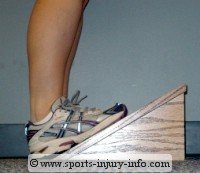 If you want to build your own angle board, use a 30 degree angle for the slanted surface.
There are lots of variations for stretching on the angled board. You can place it next to a step and step over the board with one leg.
Another variation is to stand on one leg, hold onto something for balance, and then rotate your hips right and left. This will change the areas of stretch in the calf. You can also stand on the board with your knees slightly bent. This moves the stretch lower into the achilles and ankle.
Summary
Stretching the calf is important to prevent injuries, as well as treating injuries like achilles tendonitis, plantar faciitis, and ankle sprains.
Didn't find what you were looking for? Search SII for more information...
Running Pain Solutions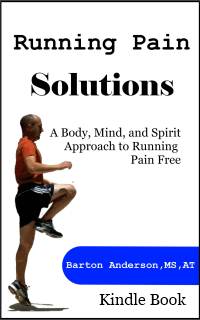 The key to getting rid of minor aches before they become major pains is a simple, total body prevention program.
Written for Runners by a runner, you'll learn a holistic approach to improving mobility, restoring normal movement and muscle activation patterns, and restoring the body and mind connection.
This Kindle Book contains a step by step program to keep you running pain free. Included are detailed instructions and illustrations for exercises to improve mobility, balance, neuromuscular control, strength and endurance. Only $7.49!
Get Your Copy Today!