Piriformis Stretches
Piriformis stretches are a great way to improve hip mobility and flexibility. The piriformis muscle is one of the hip rotators, and can contribute to injuries like sciatica and piriformis syndrome. This is can be due to tightness of the muscle, and mobility restrictions at the hip.
What are the best stretches for the piriformis? Read on to find out...
Piriformis Stretching
To stretch the piriformis muscle, start by laying on your back with both knees bent. Cross your right leg over the left, placing your right ankle on your left knee.
Next, reach down and grab your left thigh with both hands, and pull back towards your chest. You should feel a stretch on the outside of your right hip.
Hold the stretch for 5-10 seconds, and repeat 5-10 times.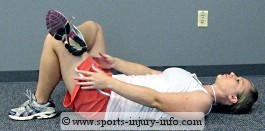 Summary
Stretching the piriformis is easy to do, and can help with lots of different hip problems, including sciatica, piriformis syndrome, or hip mobility restrictions. It should be part of any hip training program, or any program to improve your flexibility.
Need a little guidance to get your stretching program going?
Download a free copy of
Flexibility Solutions: Lower Body
- You will learn some of the best stretches for the lower body. Step by step instructions with pictures, this whole program can be done in as little as 10 minutes a day - and best of all, its free! Just use the form at the top right of the page.
Didn't find what you were looking for? Search SII for more information...
Running Pain Solutions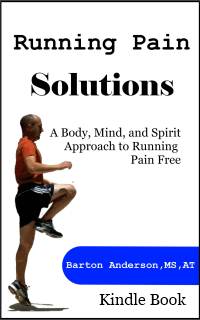 The key to getting rid of minor aches before they become major pains is a simple, total body prevention program.
Written for Runners by a runner, you'll learn a holistic approach to improving mobility, restoring normal movement and muscle activation patterns, and restoring the body and mind connection.
This Kindle Book contains a step by step program to keep you running pain free. Included are detailed instructions and illustrations for exercises to improve mobility, balance, neuromuscular control, strength and endurance. Only $7.49!
Get Your Copy Today!