What is a Certified Athletic Trainer?
A certified athletic trainer is an allied health care professional trained in the area of sports medicine.
Athletic trainers can be found in many different settings. The most traditional settings include working with high school, college, and professional teams, providing health care for athletes.
But athletic trainers also work in sports medicine clinics, physician's offices, the military, industrial work settings, and many other places.
An Athletic Trainer's Qualifications
All certified athletic trainers are required to go through an accredited athletic training education program at an acredited university or college.
These programs includes classes in anatomy, physiology, kinesiology, nutrition, orthopedic injury evaluations, therapeutic exercise, therapeutic modalities, psychology, injury prevention, and many other science areas.
After graduating, all athletic trainers take a national certification examination in order to become certified athletic trainers. The national exam is administered by the National Athletic Trainers' Association Board of Certification, and is a rigorous three part test. In order to practice athletic training, an ATC must pass the all parts of the certification exam.
Many athletic trainers have a masters degree in a related science field, or an advanced degree in athletic training.
What Does An Athletic Trainer Do?
Certified Athletic Trainers are skilled health professionals that specialize in prevention, evaluation, treatment, and rehabilitation of musculo-skeletal injuries.
Musculo-skeletal injuries are the most common types of sports injuries, and simply involve muslces, bones, ligaments, and tendons.
If you have had a sports injury, you may already be familiar with everything an athletic trainer does.
Acute Care and Evaluation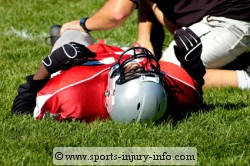 If you suffer a sports injury, an athletic trainer is trained to be able to evaluate your injury and determine what type of injury you have, the severity of that injury, whether or not you need X-rays, or if you need to see a physician.
They can also provide first aid care to start the treatment process. This includes the RICE principles of Rest, Ice, Compression, and Elevation.
Treatment and Rehabilitation
Once you have been evaluated, and your exact type of injury has been determined, your athletic trainer can provide you with the rehabilitation that you need to recover.
They are trained to use modalities such as electrical stimulation, therapeutic ultrasound, massage, exercise, stretching, and many other things to help with your recovery. Whether you suffer from a minor acute injury, or have just had surgery, an athletic trainer can help with your rehabilitation.
As your rehabilitation progresses, your athletic trainer will continue to change your exercise program to challenge your body, getting stronger and more stable until you are ready to return to participation. And your athletic trainer will be able to tell you when you can safely return to sports activities.
Education and Counseling
While the majority of an athletic trainer's job centers around injury evaluation, treatment, and rehabilitation, they also play important roles as counselors and educators.
Your athletic trainer can answer all of your questions regarding your injury, what steps you need to take to get better, and ways that you can work to prevent re-injury. Educating athletes and patients is an important part of our daily jobs.
Prevention
Injury prevention is another imporant part of the athletic trainers job. Advanced training in proper conditioning, strengthening, stretching, and exercise techniques allows an athletic trainer to develop sound prevention programs for their athletes and patients. Educating athletes in these areas helps in preventing injuries.
Summary
Athletic trainers are highly trained in the area of sports medicine, and specialize in sports injuries and active people. Whether you have an ankle sprain, a rotator cuff tear, or ACL surgery, a certified athletic trainer is a good choice for your health care provider.
Almost all colleges with athletics employ at least one, if not several, certified athletic trainers. Many high schools have athletic trainers on staff, present at all of their sporting practices and games.
For more information about certified athletic trainers, I would invite you to visit the
National Athletic Trainers' Association website.
Didn't find what you were looking for? Search SII for more information...
Running Pain Solutions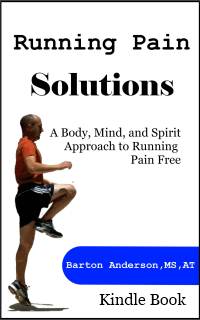 The key to getting rid of minor aches before they become major pains is a simple, total body prevention program.
Written for Runners by a runner, you'll learn a holistic approach to improving mobility, restoring normal movement and muscle activation patterns, and restoring the body and mind connection.
This Kindle Book contains a step by step program to keep you running pain free. Included are detailed instructions and illustrations for exercises to improve mobility, balance, neuromuscular control, strength and endurance. Only $7.49!
Get Your Copy Today!