Fitness Ball Exercise
Fitness ball exercise is often used in sports injury rehab because of the low cost of equipment, the variety of exercises, and the ability to improve core stability while training different muscle groups. Read on to learn more about how you can use a fitness ball for your exercise or rehab program.
Choosing a Fitness Ball
There are lots of different manufacturers of fitness balls, or balance balls. I use Gymnic balls in my clinic with my patients, but they are just one of many. More important than the manufacturer is the size.
When you choose your fitness ball, you should make sure that you get the right size based on your height and weight. Most people will need a 55cm or 65 cm ball. The measurement is taken when the ball is fully inflated. The easiest way to determine what size you need is to sit on a fully inflated ball. Your knees should be at a 90 degree angle with your feet flat on the floor.
Benefits
The biggest benefit of using a stability ball for exercise is that it requires significant involvement of the core. Even if you are working on exercises for the lower extremity or the arms, you have to maintain
good core stability
in order to perform the exercises. This is the key to functional training - learning to stabilize the core while performing with the extremities.
The other benefit is that you are only limited by your own creativity when it comes to the types of exercises you can do. Below are just a few examples of fitness ball exercise.
Abdominal Crunches
You can use a balance ball to perform abdominal crunches. Pictured to the right is a lower rectus abdominus crunch starting position.
See how the balance ball helps to stabilize the pelvis. It forces your lower abdominals to contract and stabilize while you perform the crunch. It can also take some of the stress off of your lower back. There are lots of abdominal crunch variations using a balance ball.
Push Ups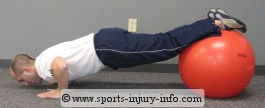 You can use a stability ball for
push ups
. Either placing your hands on the ball and doing push ups that way, or putting your feet on the ball to create a decline lunge.
You can also do
planks
on a stability ball, either with your hands or feet on the ball.
Bridging
Placing your feet on a stability ball, and then lifting your hips or bridging up is a great core strengthening exercise. Add movement of the hands overhead, or alternating lifting your legs to challenge your abs even more.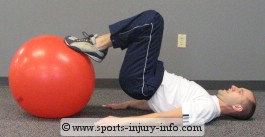 In addition to bridging, you can add in a hamstring curl to work your hamstrings and your core at the same time. The possiblities for exercises are limitless.


Summary
Using fitness ball exercise for sports injury rehab or a good workout program is cost effective, and simple to do. You are only limited by your imagination when it comes to the type of exercises you can do. And not only will you be working on specific muscle groups, but you will be improving your core stability as well.
Didn't find what you were looking for? Search SII for more information...
Running Pain Solutions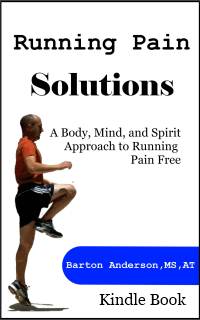 The key to getting rid of minor aches before they become major pains is a simple, total body prevention program.
Written for Runners by a runner, you'll learn a holistic approach to improving mobility, restoring normal movement and muscle activation patterns, and restoring the body and mind connection.
This Kindle Book contains a step by step program to keep you running pain free. Included are detailed instructions and illustrations for exercises to improve mobility, balance, neuromuscular control, strength and endurance. Only $7.49!
Get Your Copy Today!