Perfect Push Ups
Perfect push ups are a great total body exercise. And the best part about it is that it requires no equipment at all. Just you and your body.
Push up training is a great way to improve core stability, and it is one of my favorite core exercises for my patients. It also works the shoulders, chest, upper back, and hips. For the time investment and not needing equipment, a push up is one of the best exercises you can add to your training program or sports injury rehab.
The Perfect Push Up
The key to an effective pushup is to make sure that you maintain good body alignment. If you can do this, you will work more than just your arms and chest. You will gain core stability and abdominal strength.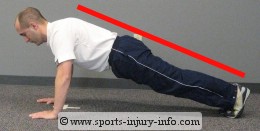 To perform a push up, start by placing your hands a little wider than your shoulders, and rolling up on your toes.
Make sure that you are in alignment from your shoulders to your heels.
You may want to perform this in front of a mirror the first few times to make sure that your hips are not too high, or that you are not sagging in the middle.
Once in the starting position,
draw in your lower abdominals
to stabilize your pelvis and keep your alignement.

Lower yourself to the floor, touching your chest at the bottom.
Breathe out and then push yourself up to return to the starting position.
Make sure that you keep your alignment through the entire push up. Start off with sets of 5-10, paying attention to your position. Gradually add more sets and repititions as you get stronger.
As you are performing the push ups, focus on your abs. Keep your pelvis stabilized, and you will feel your lower abdominals really working because you are challenging them.
Push Up Variations
There are lots of ways to vary push ups and make them more challenging. Once the perfect push up gets easy, it is time to vary your workout with other types of push ups.
You can start by placing your feet on a chair or a box, creating a declined push up. I like to use fitness balls to do decline push ups, both myself and with my patients.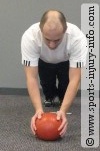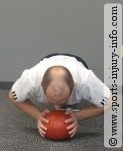 You can also do push ups on a medicine ball. This is an advanced exercise, and takes some time to work up to.
With the very close hand position, it will really work your abs if you keep good alignment.
Summary
Most people don't think of push ups as an abdominal exercise. Ask any fitness professional and they will tell you different. The key to perfect push ups is to make sure that you maintain good alignment. Go slow and breathe throughout the exercise. As you get stronger, you can add variations like the fitness ball push up or the medicine ball push up.
Didn't find what you were looking for? Search SII for more information...
Running Pain Solutions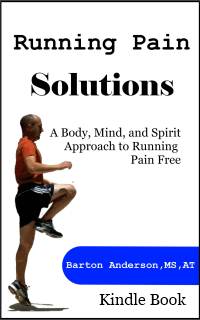 The key to getting rid of minor aches before they become major pains is a simple, total body prevention program.
Written for Runners by a runner, you'll learn a holistic approach to improving mobility, restoring normal movement and muscle activation patterns, and restoring the body and mind connection.
This Kindle Book contains a step by step program to keep you running pain free. Included are detailed instructions and illustrations for exercises to improve mobility, balance, neuromuscular control, strength and endurance. Only $7.49!
Get Your Copy Today!