Knee Braces
Knee braces can be very helpful in preventing and treating sports injuries. Depending on your specific injury, there may be a brace out there that could help to reduce your pain, and keep you off the sidelines.
When it comes to braces, they are not all created equal. There are lots of different ones to choose from, and each one has a specific design and purpose, based on what type of injury it is treating. Choosing the right brace can make the difference in whether it actually works, or whether it is just a waste of time and money.
Below you will find some of the most common types of knee braces, as well as the injuries they are most suited for treating.
The Patella Stabilizer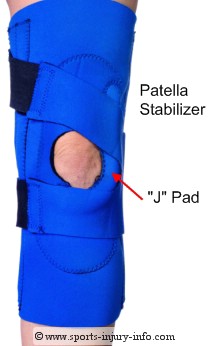 The patella stabilizer is a knee sleeve type of brace. They come in many different forms, but they all have one thing in common. They work to help stabilize the patella, preventing excessive motion.
Patella stabilizers are usually used to treat
patella femoral compression syndrome
. They are made of neoprene, and have a small hole in the middle where the patella sits. Most of these braces have a small pad on the lateral side of the brace, which may be in the shape of a "J". It surrounds the patella, and helps buttress it from the outside, keeping it from moving too far lateral.
Patella stabilizers should be snug both at the top and bottom, otherwise they will slip during activity. Some come with straps to help adjust tension.
A patella stabilizer is a good choice for to assist in treating patella femoral syndrome, and other patella tracking problems. However, the brace should only be part of your treatment. You should also address biomechanical issues, as well as strength and flexibility.
Patella stabilizers can be found at some sporting goods stores, from your physician, or you may find some great deals on Ebay...
Hinged Knee Braces
Hinged knee braces can be used to treat many different types of injuries. Some of them are simply patella stabilizers with hinges on both sides, adding a bit more strength to the stabilizer, while others are designed specifically for preventing or treating
MCL
or LCL injuries.
Most hinged braces are made of neoprene, and have hinges on both sides that help to reduce medial and lateral motion of the knee. Your physican may recommend a hinged brace after an MCL injury, or if you have had problems with hyperextension.
They can be used with most sports, and come in a variety of shapes, sizes, and sturdiness. These braces can also be purchased from some sporting goods stores, from your physician, or my favorite, on Ebay.
Derotation Braces
Derotation knee braces are used to treat more serious knee injuries, like
ACL tears
, or
PCL tears
. They are not for injuries like patella femoral compression syndrome.
Derotation braces are designed to help reduce rotation forces on the knee, which are the primary complaint of instability after an ACL or PCL tear. These braces are made of metal, and are very sturdy, and somewhat bulky. They usually have hinges on both sides, and straps that secure them along the calf and thigh.
Most derotation braces are either custom fit, or custom adjusted to your leg. This means that they are significantly more expensive than traditional neoprene hinged braces or patella stabilizers, and must be provided by your physician or athletic trainer.
Summary
Knowing what type of injury you have is very important when choosing a knee brace. You should be sure to get one that is going to help reduce your symptoms. Patella stabilizers are good for patella femoral syndrome problems, while hinged braces are most adapt at treating MCL or LCL tears. Derotation braces may help reduce symptoms after an ACL or PCL tear.
Make sure that you take your time to figure out what brace will work best for you by discussing it with your physician or athletic trainer.
Remember, there is no brace out there that will completely prevent any type of injury, or completely treat any injury. They are an important and valuable part of a prevention or treatment program, but not the whole nine yards.
Didn't find what you were looking for? Search SII for more information...
Running Pain Solutions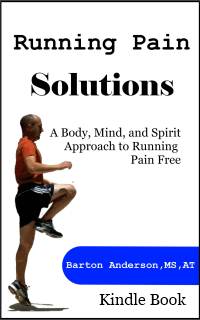 The key to getting rid of minor aches before they become major pains is a simple, total body prevention program.
Written for Runners by a runner, you'll learn a holistic approach to improving mobility, restoring normal movement and muscle activation patterns, and restoring the body and mind connection.
This Kindle Book contains a step by step program to keep you running pain free. Included are detailed instructions and illustrations for exercises to improve mobility, balance, neuromuscular control, strength and endurance. Only $7.49!
Get Your Copy Today!