Looking For A Sports Nutrition Diet That Will Give You A Competitive Edge?
Suzette Kroll, RD
Sports Nutrition
Many people make the mistake of improperly fueling (or not fueling) before and after exercise. Just like a seedling needs proper nutrition to grow, a successful exercise regimen requires proper sports nutrition at proper times for optimal results.
Carbohydrate rich foods provide the primary fuel needed during physical activity. Carbs come from fruits, vegetables, whole grains and whole grain products like whole wheat bread and pasta, brown rice and oatmeal, and even some dairy products like milk and yogurt.
Unfortunately, carbs are often considered "taboo" as a result of popular high protein, low carb diets. However, carbohydrates are an athlete's friend, and should be consumed regularly and adequately as part of a good diet.
Pre-Exercise Meal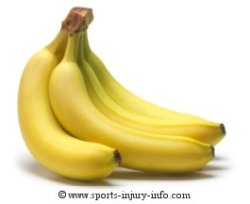 It's best to fuel your body with a carbohydrate rich meal 1-4 hours prior to exercising. The exact amount that you need will depend on the type and duration of your exercise/training session and how close to it you plan to eat.
Examples:
6oz vegetable juice
1/4 cup dried fruit
1/2 cup applesauce
1 banana
1 cup fruit yogurt
1 slice whole grain toast with 1 Tablespoon natural fruit preserves
1/2-1 whole bagel
1 oz whole grain crackers and 1/2 - 1 cup 100% fruit juice
1 cup oatmeal with 2 Tbsp. raisins
Note: The portions would increase proportionally with the intensity and/or duration of exercise. A pre-exercise meal before a marathon would be more than before a 30 minute jog.
For professional help in calculating your specific nutritional needs, please
contact Suzette Kroll, Your Personal Nutrition Guide
.
Post-Exercise Meal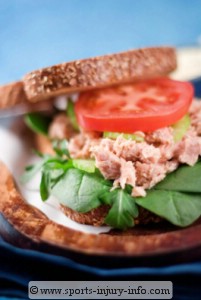 Immediately after exercise, it's best to eat a snack or meal that consists of both carbohydrate and protein. The first 1/2 hour after exercising is the
most critical time to refuel
, as your body is rebuilding muscle that was torn down during exercise and replenishing carbohydrate stores that were depleted.
Examples:
Turkey or tuna sandwich on whole wheat bread
Fruit smoothie made with protein powder
Vegetable omelet served with whole wheat toast
Lowfat cottage cheese and fruit
Chicken and brown rice
Turkey burger on whole wheat bun
Providing the right sports nutrition at the right time can make or break your performance and energy. Whether you're a recreational exerciser or a trained athlete, eating the right food and properly timing it can help you go longer, stronger, and realize your potential!
Nutritionist Suzette Kroll, RD, is a registered dietitian, certified intrinsic coach and specialist in nutritional counseling. She is a senior staff member of the world renowned Canyon Ranch Health Resort in Tucson, Arizona. She is also the creator of Your Personal Nutrition Guide.

Suzette specializes in weight loss and sports nutrition as well as nutrition relating to heart disease, diabetes, vegetarianism, and teen eating.