Knee Rehab Exercises:
Improving Strength
Improving your strength can be accomplished with lots of different knee rehab exercises. The quadriceps must be strengthened in order to return to normal knee function. Don't forget about the hips and core as well, because these muscles play an important role in knee stability.
Below are several knee exercises that will work to improve your strength. I use these with my patients every day.
Basic or Early Exercises
Early rehab exercises to strengthen the quadriceps include straight leg raises and standing knee extensions.
Straight leg raises are performed by straightening your knee all the way out, and the lifting your heel off of the floor or table about 6-8 inches. Hold for 10 seconds and then relax. Repeat.
To perform standing knee extensions, place your weight on both legs evenly, with your knee bent slightly. Then shift most of your weight onto your injured leg and straighten your knee all the way out, squeezing your quadriceps muscles. Hold for 5-10 seconds and then rest. Repeat.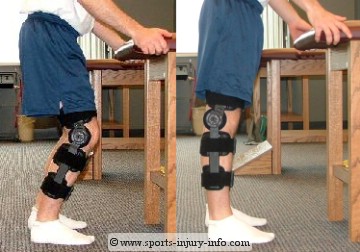 Advanced Exercises
Lunges
and squats are more advanced knee exercises that can be used to improve your strength. Make sure that you focus on your form when performing these exercises.
The sidelying leg raise is another exercise that can be used to improve your hip strength.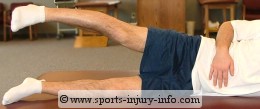 Start by laying on your uninjured side, making sure that your hips are straight up and down. Next, lift your leg up about 8-10 inches, pointing your toes directly forward, or a little bit down. This makes sure you maintain proper rotation of the hip. Hold for 10 seconds and then rest. Repeat.
Lower abdominal exercises
on a
foam roller
or
fitness ball
are great ways to improve your core strength.
Summary
Exercises for strengthening are an important part of a knee rehab program. Quadriceps and hamstring strengthening, as well as hip and core strengthening should all be incorporated. Make sure that you focus on your form when performing any type of knee rehab exercises.
Didn't find what you were looking for? Search SII for more information...
Running Pain Solutions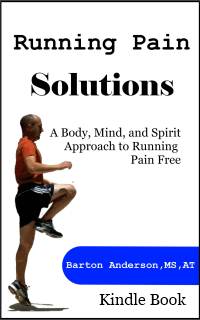 The key to getting rid of minor aches before they become major pains is a simple, total body prevention program.
Written for Runners by a runner, you'll learn a holistic approach to improving mobility, restoring normal movement and muscle activation patterns, and restoring the body and mind connection.
This Kindle Book contains a step by step program to keep you running pain free. Included are detailed instructions and illustrations for exercises to improve mobility, balance, neuromuscular control, strength and endurance. Only $7.49!
Get Your Copy Today!